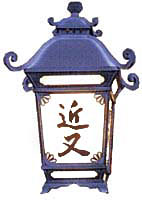 To find KINMATA, walk south from Nishiki-ichiba (the most famous food market in Kyoto) to Gokomachi. Along the way, be sure to take time to enjoy the attractive lattice work, tiled roofs, Meiji-era gasligths, spikes, shutter boxes with arrow feather family creats, old stone lanterns, and big shop sign curtains.
Before long you will come across the KINMATA Kaiseki Ryokan, which is housed in a typical traditional Kyoto trading establishment that exudes Kyoto-style ambience.
As you enter the KINMATA through the big sign curtains at the gate you will be welcomed by a warm"Okoshi-yasu" ( Welcome! ) from the staff.
Guests are greeted by the warm and deeply tranquilizing polished wood environment.
The nostalgic atmosphere you long for and a flavor only to be found in Kyoto are yours to be enjoyed.